If you are trying to submit your listing, but the Location or Neighbourhood field keeps removing whatever you are inputting, please follow the resources below.

---

Validating the listing first.

Sometimes clicking on the Validate button

on the listing before submitting it will help with whatever you're trying to input stick in the Location or Neighbourhood fields.
---

Be sure to input the field using the Matrix Auto-fill and NOT your browsers Auto-fill.

When using the Matrix Auto-fill, make sure NOT use your browsers Auto-fill. Matrix won't recognize any input done by your browsers Auto-fill.

Matrix Auto-fill feature will give you input suggestions as you type. Select any of the suggestion to complete your input.

Your browser Auto-fill will look and interact differently than the Matrix Auto-fill. You'll even notice that when you do use the browser Auto-fill, sometimes the Matrix Auto-fill will appear behind it and ask you to make a selection to complete your input.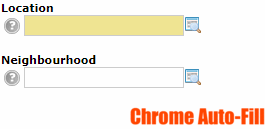 ---

Use the Search Window

Beside the Location and Neighbourhood fields is a Search Window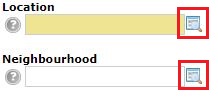 This will open up a small window that will give you a list of all the available Locations or Neighbourhoods.

You can either look through the list or use the search bar on top. Click on any of the items to highlight it and then click the OK button to select it.