Very first step is to upload the video or the 3D tour to a 3rd party service such as YouTube
©
, Vimeo
©
or Matterport
©
and retrieve the link.
That link can now be attached to the listing using the steps below.
You can input your Virtual Tour before or after submitting your listing.

Before Submitting a Listing

If you are in the processes of inputting your listing, you can find the Virtual Tour field on the Remarks Tab.

After a Listing Has Been Submitted

1. If you've already submitted your listing and it is active, you can find the Virtual Tour field by going to the Input tab.

2. Select the listing you want by either using the drop-down menu or entering the MLS number and clicking Edit.

3. Underneath the Select Form header, click on Change Mapping and Comments.

4. Click on the Member/Public Remarks.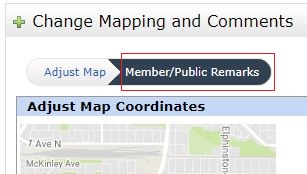 Fill in the Virtual Tour field with your link, then click the Submit Listing button once you're done editing the listing.

---
Where to find your Virtual Tour

When you are viewing a listing on Matrix, you'll know a video/virtual tour has been added by the film wheel on the top left. Clicking it will open the Virtual Tour link.

On REALTOR.ca Virtual Tour in found on Highlights as seen below.